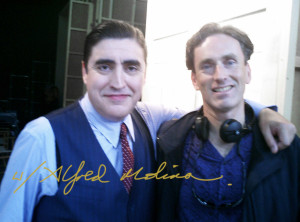 Adrian McCourt was born in London in 1961, and is of Irish and Scottish descent. As Dialogue Coach he has been working all over the world for the past sixteen years with close to two thousand actors of every nationality for both roles and castings, and teaching English for twenty-six years.
He has a lot of experience working with very high level talent, and has been working back to back on major international productions, such as 'Saints and Strangers' (2015) in South Africa (Vincent Kartheiser, Anna Camp, Ron Livingston etc), produced by Sony Television and National Geographic. A week after finishing that he was on a 4 and a half month miniseries in Italy with Dustin Hoffman, Brian Cox, and Richard Madden called 'The Medici, Masters of Florence', with Frank Spotnitz (Twin Peaks) as the show-runner;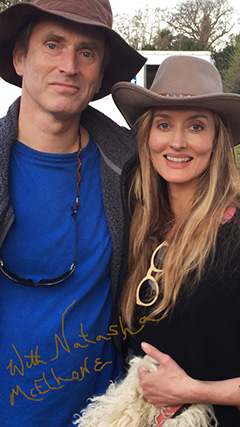 and within a few weeks of finishing that, Adrian started a three month miniseries called 'Harley and the Davidsons' (Dougray Scott, Michiel Huisman, Bug Hall, etc), produced by Discovery.
After completing all the post production ADR of that at Goldcrest in Soho, London, Adrian flew to Dublin in Autumn 2016 to work 10 weeks on the incredible project "The Professor And The Madman" (from the book by Simon Winchester) with Mel Gibson, Sean Penn, Jennifer Ehle, Natalie Dormer etc. He also worked on the Warner Brothers pilot "Krypton", about superman's ancestors, with David Goya (Batman trilogy) as the show runner, as well as preparing some actors for the film "The Man Who Invented Christmas" with Dan Stevens and Christopher Plummer, which is Adrian's 27th film.
Adrian's calm demeanor and past experience as an actor give him a unique understanding of, and approach to the set. His ethos is to help facilitate the actors' accents/ dialogue in the most unobtrusive way possible, so that they are not inhibited by it in their performance.
He is currently preparing the Maestro and 60 choristers of the most famous choir in Italy – The Choir of Santa Cecilia, for Hayden's Messiah, which will be performed in English at the auditorium in Rome.
His next film project will be in July 2017, working for 5 months on season 2 of The Medici (Netflix) series, with Jon Cassar as the director.
He is also a passionate photographer, and is based in London and Rome.
Adrian is now a proud Father – Wolf McCourt was born January 2nd, 2017.